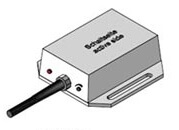 Application:
Inductive proximity switches are capable of controlling contactors, relays or electronic logic switching systems. They are used as control or monitor switches on conveyor and crane systems, transfer lines and machine control systems, and to solve general automation problems.
Actuation:
Proximity switches are actuated by metals approaching or traveling past the active switching surface. The switches can be actuated through non-metallic substances such as glass, plastic or rubber. They are not affected by oil, water or dust.
Definitions:
Nominal switching distance Sn:
The nominal switching distance refers to a switching plate of steel St37 (the size of the switching plate should be taken form the individual description). It is reduced in the case of nickel by approximately 15%, in the case of brass by approximately 45%, in the case of aluminum by approximately 50% and in the case of copper by approximately 55%.
Real switching distance Sr:
The rear switching distance takes into account permissible manufacturing tolerances.
Effective switching distance S:
The effective switching distance takes into account the permissible variation over the entire temperature range as well as the manufacturing tolerances. S £ 0,81 x Sn
Reproducibility:
Reproducibility of consecutive switching cycles is determined over a period of 8 hours with a housing temperature of 15°C - 30°C and a voltage of En±5%. The variation of any two measurements will not exceed the value stated in the specification.
Hysteresis:
This is the difference between the operating point and the release point of a proximity switch.
Resistance to sustained short circuit:
Switching resistance to sustained short circuit are not destroyed even in the event of sustained short circuit because the output stage is disconnected electronically
Fitting instructions
Flush fitment Non-flush fitment


Measuring plate
Measuring plate steel St37
| | |
| --- | --- |
| N14.. to N7 0.. | 100% = N² |
| Example: N30-..-..-.. | Measuring plate. 30x30mm |
| N200..to N1200.. | 100% = 150x100x2mm |
Standard value
| | | | | |
| --- | --- | --- | --- | --- |
| Target Size | 150 | 50 | 25 | 12.5 |
| Deviation in Sn in % | +10 | -15 | -25 | -45 |
General specification:
| | |
| --- | --- |
| Protection Class: | IP 65 ( DIN 40050 f) Ambient Temperature |
| Type N...- | -20°C to +80°C |
| Type NC...- | -20°C to + 100°C |
| NAMUR | - |
| Type NC...-1-.. | -20°C to + 125°C |
| Cable: | 2m LIYY 0,75mm² special cable and extra length available |
| Hysteresis: | 1 to 5% |
| Repeatability: | ≤1% |
Example of order: N150-95-L83-100L=2M